The jobs report this past Friday June 5th was a positive surprise, to say the least. As we highlighted in our May webcast, "Tracking the Recovery: Market Vital Signs", we are seeing broad based signs of a global economic recovery after one of the worst shocks we have ever seen in our careers (or can think of). In our view, while we are very mindful of "second wave" risk and other significant uncertainties, we expect a continuing and dramatic improvement given the severity and nature of the economic downturn.
Caveat emptor, but given economic signals and recent market dynamics, this is, in our view, beginning to feel something like the recovery trade in March 2009. We believe the upturn in the global economy has just started with "stay at home" orders being lifted on a widespread basis. Added to that, the monetary and fiscal stimulus has been simply staggering and has yet to be fully felt through economic channels.
In our recent meetings, we have been asked a number of times: "Is now a good time to buy Midstream?" Obviously, the market never "rings a bell" for you after a very scary period when the economy, several fundamental drivers, and stock prices are in free fall—but we have been on the record in our webcasts saying we are buyers and how to be positioned (we recently tilted from largely "defensive" and playing the natural gas trade to layering in select "quality beta"). While we expect volatility to continue, below we show that despite the recent positive performance, valuation multiples for the Midstream group1 are still near Great Financial Crisis lows.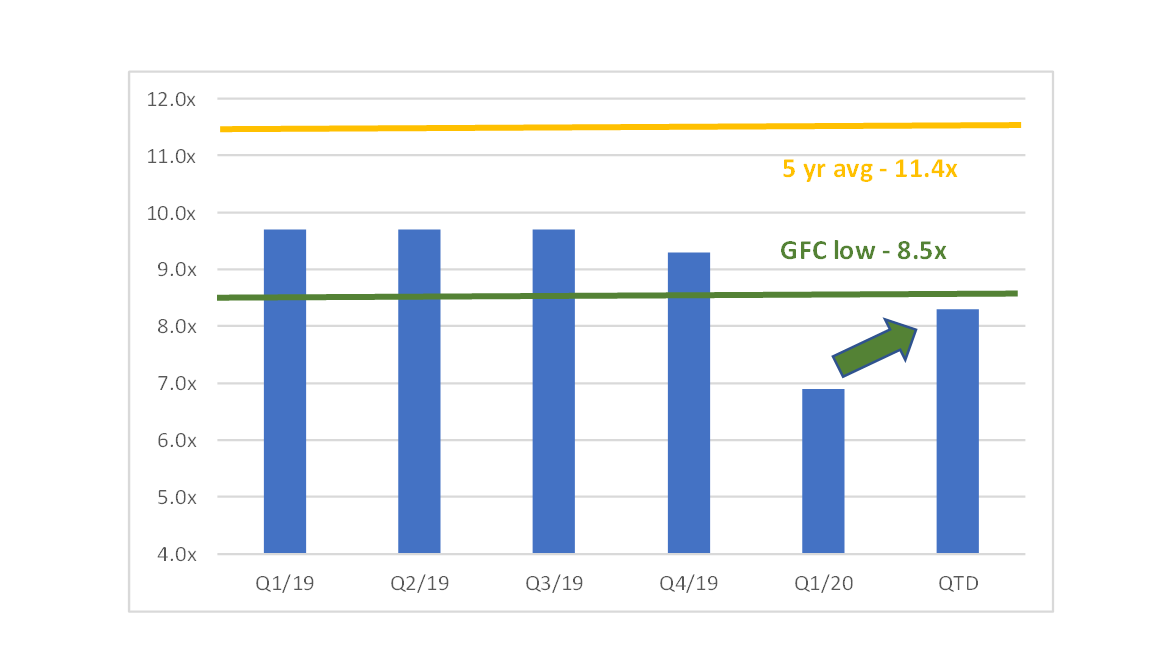 Source: Wells Fargo Securities, LLC | Midstream Monthly Outlook: June 4, 2020
Further, focusing on the larger Energy group, Midstream is trading at a much steeper discount to the 5-year average compared to their E&P and Oilfield Services brethren, and this is somewhat perplexing. The table below is from our friends at Wells Fargo.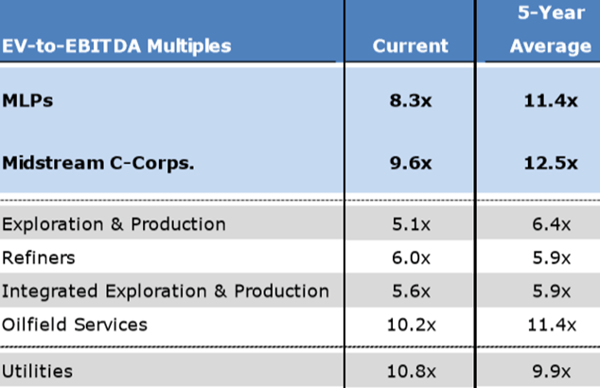 Source: Wells Fargo Securities, LLC | Midstream Monthly Outlook: June 4, 2020
While the broad market, including Midstream equities, has run recently, we think our space has much more to go. Additionally, after broadly applying trough valuation multiples to trough forward estimates, don't be surprised to see sell-side research analysts bumping up target multiples to try to keep pace.


1 Midstream Group: Wells Fargo Securities, LLC Midstream/MLPs/Natural Gas Equity Research Coverage Universe.
---
Presenters:
Toby Loftin

Managing Partner & PM

Ben Cook, CFA

Portfolio Manager
Disclaimer:
The information provided does not constitute investment advice and is not an offering of or a solicitation to buy or sell any security, product, service or fund, including any fund that may be advertised.
All information provided herein is for informational purposes only and should not be relied upon to make an investment decision.
Any charts, tables, and graphs contained in this document are not intended to be used to assist the reader in determining which securities to buy or sell or when to buy or sell securities. Any projections or other information in this blog post regarding the likelihood of various future outcomes are hypothetical in nature and do not guarantee any particular future results. Additional information is available upon request. Unless otherwise noted, the source of information for any charts, graphs, and other materials contained here is BPCFA.
This document may contain forward-looking statements and projections that are based on our current beliefs and assumptions and on information currently available that we believe to be reasonable; however, such statements necessarily involve risks, uncertainties and assumptions, and prospective investors may not put undue reliance on any of these statements.