Energy Pricing in Biden? Reality is Likely Better than Sentiment.
By BP Capital Investment Team - August 25, 2020
Despite the apparent perception of significant threats to the sector, we believe Biden's overall energy agenda will be fairly pragmatic by party standards. We also view a Biden administration as supportive to continued growth in U.S. natural gas demand and exports.
With Biden's lead in the polls and the presidential conventions continuing this week, investor attention has increasingly turned to a potential Biden victory and implications for renewables and traditional fossil fuel policies. Looking at how the likely impacted stocks have reacted, we think it is safe to say this is to a fairly large degree already priced into the market. We also continue to think natural gas remains very well positioned in a renewables-friendly future.
Relative Price Performance of "Clean" and Traditional Energy (Since 6/30/2020)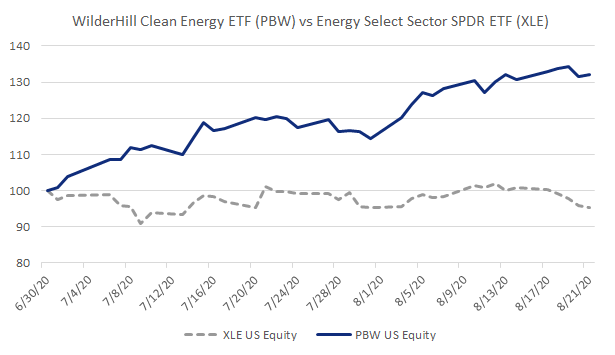 Source: Bloomberg - August 25, 2020
Even so, combined with the usual late summer lethargy, we acknowledge that this is a near-term headwind for the broader Energy group that could drag on until the election, at which point we will begin to have more certainty.
Importantly, though, looking at Biden's energy agenda, it's not as bad as initially feared; for example, there is no "frac ban" and there is no ban on energy exports. What is more likely are limits or possibly a ban on new permits on federal land. While this might sound bad, it probably won't have much of a near-term production impact and would not be a huge impact for Midstream in general given where assets are located (i.e. there is little federal land overlap in the Texas Permian basin and the Northeast). Further, we would expect there to be a degree of grandfathering of existing permits, and some E&P companies will likely pivot to other non-federal acreage. A possible and partially offsetting impact could also be higher commodity prices given less anticipated supply.
Tudor Pickering Holt & Co (TPH) Map of Federal Drilling Permit Exposure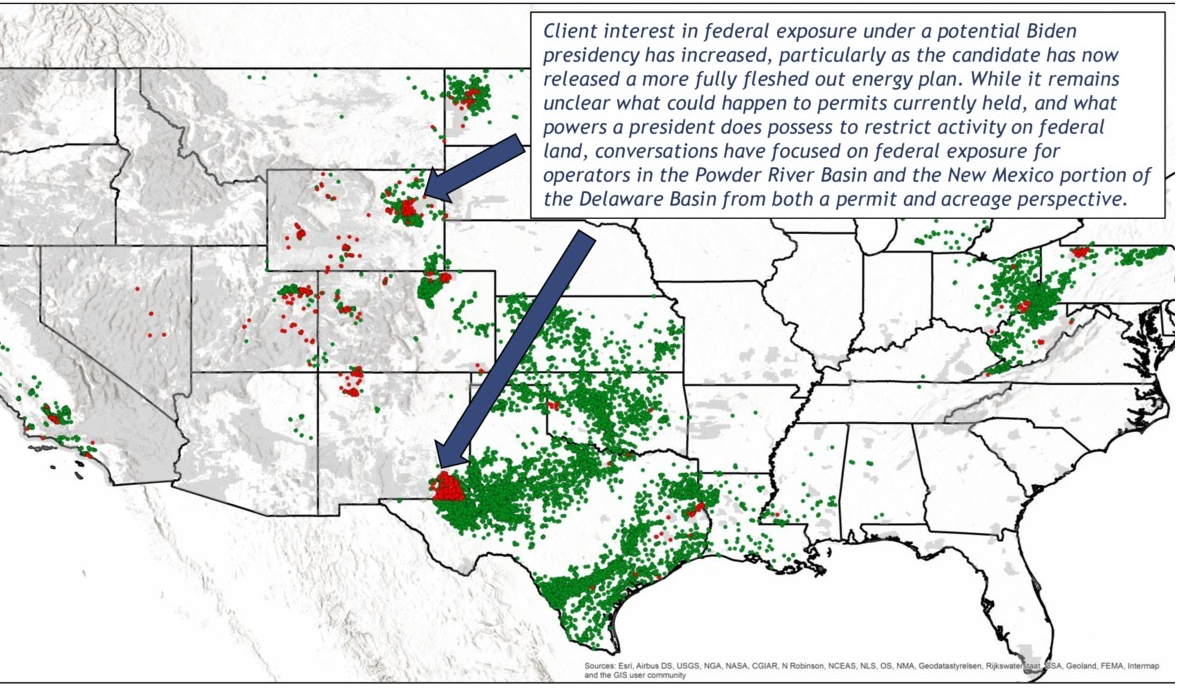 Source: Tudor Pickering Holt & Co (TPH) - July 2020
Nonetheless, within our Midstream universe, Plains All American (NYSE: PAA) appears to have been a bit of a lightning rod for policy uncertainty in recent weeks (although management has stated that less than 20% of their Permian acreage is on federal lands). We think this under-performance is overdone and that PAA is attractively priced.
Relative Price Performance of PAA and AMZ Index (Since 6/30/2020)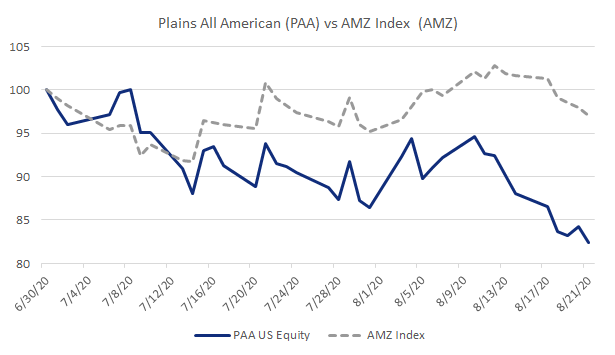 Source: Bloomberg - August 25, 2020
When thinking about a world under Democrat control, say what you will about how much they actually had to do with it, but remember the Shale Revolution happened under Obama/Biden. In retrospect, those 8 years actually feels like a pretty friendly environment compared to today (unless you were a coal company/investor of course). And you might not know that the Obama/Biden administration was responsible for lifting the crude oil export ban, which was a positive game changer for our industry.
Additionally, keep in mind the Obama/Biden administration was actually supportive of natural gas—which really goes hand in hand with clean energy, not to mention natural gas is responsible for dramatically lowered emissions over the years. In fact, Barack Obama said, "The natural gas boom has led to cleaner power, and greater energy independence….Natural gas isn't just appearing magically…. We're encouraging it and working with the industry." (Dallas Morning News, 08.11.20). We think a Biden administration will continue to be pragmatic and supportive with regard to natural gas, even if more "under the radar" than with renewables.
Ironically, the years under Trump haven't really been all that enjoyable if you're part of the Energy industry, considering the relentless environmentalist opposition to large infrastructure projects (as we've said before, though, the bright side is those large scale projects are largely coming to an end anyway, leading to significantly lower cap-ex and attractive Free Cash Flow for Midstream companies). And while he eventually came to the rescue with OPEC and subsequent production cuts, let's also not forget the times Trump tweeted how much he wanted low oil prices, which wasn't exactly helpful.
Of course, we're not saying a Biden administration (combined with a potential Democrat House and Senate) would be cheerleaders for traditional Energy businesses – particularly oil related – but just sentiment today is likely worse than reality. But clearly there will be more of a push for clean energy, including stated plans for a $2 trillion investment during a Biden first term.
If you have any questions or comments, we'd like to hear from you!
Disclaimer:
The information provided does not constitute investment advice and is not an offering of or a solicitation to buy or sell any security, product, service or fund, including any fund that may be advertised.
All information provided herein is for informational purposes only and should not be relied upon to make an investment decision.
Any charts, tables, and graphs contained in this document are not intended to be used to assist the reader in determining which securities to buy or sell or when to buy or sell securities. Any projections or other information in this blog post regarding the likelihood of various future outcomes are hypothetical in nature and do not guarantee any particular future results. Additional information is available upon request. Unless otherwise noted, the source of information for any charts, graphs, and other materials contained here is BPCFA.
This document may contain forward-looking statements and projections that are based on our current beliefs and assumptions and on information currently available that we believe to be reasonable; however, such statements necessarily involve risks, uncertainties and assumptions, and prospective investors may not put undue reliance on any of these statements.