Everyone's Seeing Green – Where Do Renewables Fit In?
By BP Capital Investment Team - September 02, 2020
With the U.S. presidential election looming, investor attention has increasingly turned to the implications of a Biden victory for renewables and traditional energy policy. In this post 2 of our series on the regulatory environment for energy and midstream, we delve further into our view that natural gas remains very well positioned amid growing renewables penetration.
Renewables, and specifically hydrogen, were very popular topics during this most recent Midstream earnings season. The current election season has no doubt played a part in driving this interest, as we discussed in our prior blog Energy Pricing in Biden? Reality is Likely Better than Sentiment. If greenhouse gas (GHG) emission reduction targets are to be achieved over the coming decades, it makes sense that a good percentage of electricity generation will come from both natural gas and renewables going forward, as shown in the chart below from the U.S. Energy Information Administration (EIA).
U.S. EIA Estimated Electricity Generation from Selected Fuels (billion kWh)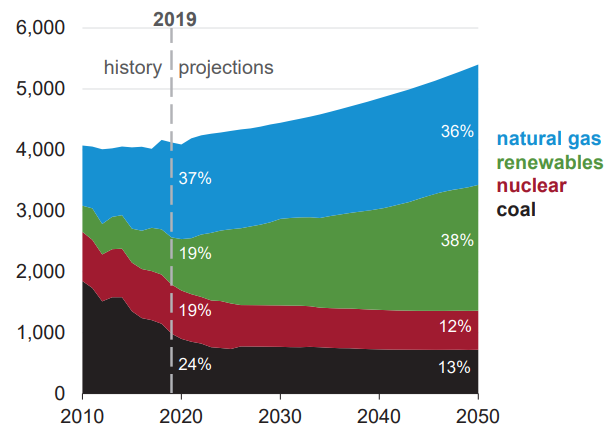 Source: U.S. Energy Information Administration (EIA) - Annual Energy Outlook 2020
Below we provide related commentary from two of those midstream earnings conference calls which help explain in part why we favor these particularly well-positioned companies and the natural gas theme generally in our midstream strategy:
Enbridge, Inc. (NYSE: ENB), 07.29.20: "Of course renewables is not as large as the other businesses within the Enbridge complex, but it's progressing really well. We've built it gradually with the same utility-like commercial structure as the rest of our businesses….At the same time, we're going to see conventional fuels growing as well, especially natural gas. So we think it makes sense strategically from the point of view of diversifying our capability to have a portion of the assets and renewables, and as I said we've built that slowly….So we've got a really good opportunity just with our gas side to be especially where we operate in the Northeast to be a very good partner for a long time….But you're right, the network, and this is decades from now -- would be well positioned if hydrogen transitions from that kind of shiny object that is potentially a solution to a reality."
The Williams Companies, Inc. (NYSE: WMB), 08.04.20: "We have several projects right now where we're bringing in renewable gas from dairy operations and from waste areas. And so, we are working -- we've got a lot them already online and we're continuing to work on those projects and I would say those are -- will be obviously ahead of hydrogen in terms of coming on, but we do see a lot of investment opportunity around that…We think we're extremely well positioned to be able to take advantage and especially as excess renewable power becomes available and converting that to hydrogen as a form of energy storage, we're extremely well positioned to take part in that…So, it's early days, but I would tell you that we are very focused on that part of the business because we truly believe that natural gas is the -- is part of the solution for how we can invest further in renewables here in the United States. So I would expect that focus to continue and we will continue to find opportunities over the next several years…I think, we expect to invest somewhere between $200 million to $400 million over the next few years in solar projects that are immediately along our footprint now."
Nonetheless, while "green hydrogen" has been a hot topic of late, it feels very far out into the future. According to Citi Research: "We are still at a very early stage with the development of green hydrogen, with approximately 1% of hydrogen produced deemed green…However, [substituting as a source of low emissions source of heat] is unlikely [to] happen before 2030 given the high infrastructure costs associated with retrofitting existing pipelines and other key infrastructure…if hydrogen were to replace natural gas in the global economy today [given its low density] it would require 3-4 times more storage infrastructure." (Citi, "Revolutionary road or just a roadmap", 08.18.20)
Lastly, we provide a "real world" word of caution for the shift to renewables—one that underscores the practical idea of a gradual "all-of-the-above" approach, especially a product mix that includes natural gas. While not exactly a shock, California has again made the news recently with its rolling blackouts, no doubt causing a little déjà vu for those who remember the Enron crisis:
"This happens when you rush to shut down power plants to meet government diktats and reduce the amount of reliable baseload power. Unlike fossil-fuel plants, solar and wind can't ramp up quickly when other power generators go down. Solar power also plunges in the evening, and the state didn't have enough backup power to compensate to meet high demand…so California is relying more on energy imported from other states when needed." (Wall Street Journal, "California's Green Blackouts", 08.19.20)
"It has forced a reckoning that could end up helping natural gas companies, and perhaps some battery manufacturers, in the years ahead….In the past week, some business leaders have pointed to the state's push into renewable energy as one cause of the power crunch. Renewable sources now account for about 30% of California's electricity generation, but as the percentage has increased it has caused some concerns about reliability. The sun obviously doesn't provide power at night, and the power crunch on some days is most acute around the time the sun sets." (Barrons, "California's Power Problems Could Benefit Natural Gas and Battery Makers", 08.20.20)
"California's grid crisis reinforces our view that oil and gas are still needed to support energy demand, and it could spur development of natural gas infrastructure for power. California's attempt to phase out fossil fuels stumbled because of the intermittent nature of renewable energy sources." (Bloomberg, "California Grid Issues Show Oil & Gas New Role in Green Deal", 08.25.20)
Regardless of these challenges, renewables are part of the new reality no matter who takes office, and we expect not just Utilities, but Midstream Energy companies (especially natural gas focused) to participate in this continuing development over the coming decades. In fact, going back to our Williams example, they just announced a goal of 56% absolute reduction in greenhouse gas emissions by 2030, putting it on a trajectory for net zero carbon emissions by 2050 (which includes preparing for future technologies in carbon capture, synthetic gas and hydrogen as a fuel source).
Williams Outlines Action Plan to "Net Zero" Emissions by 2050
Source: Williams press release - August 26, 2020
If you want exposure to this theme of growing renewables penetration, we have a product for you. We also have a presentation discussing the future of hydrocarbon demand and how renewables/EV fit in the mix. Feel free to reach out!
Disclaimer:
The information provided does not constitute investment advice and is not an offering of or a solicitation to buy or sell any security, product, service or fund, including any fund that may be advertised.
All information provided herein is for informational purposes only and should not be relied upon to make an investment decision.
Any charts, tables, and graphs contained in this document are not intended to be used to assist the reader in determining which securities to buy or sell or when to buy or sell securities. Any projections or other information in this blog post regarding the likelihood of various future outcomes are hypothetical in nature and do not guarantee any particular future results. Additional information is available upon request. Unless otherwise noted, the source of information for any charts, graphs, and other materials contained here is BPCFA.
This document may contain forward-looking statements and projections that are based on our current beliefs and assumptions and on information currently available that we believe to be reasonable; however, such statements necessarily involve risks, uncertainties and assumptions, and prospective investors may not put undue reliance on any of these statements.